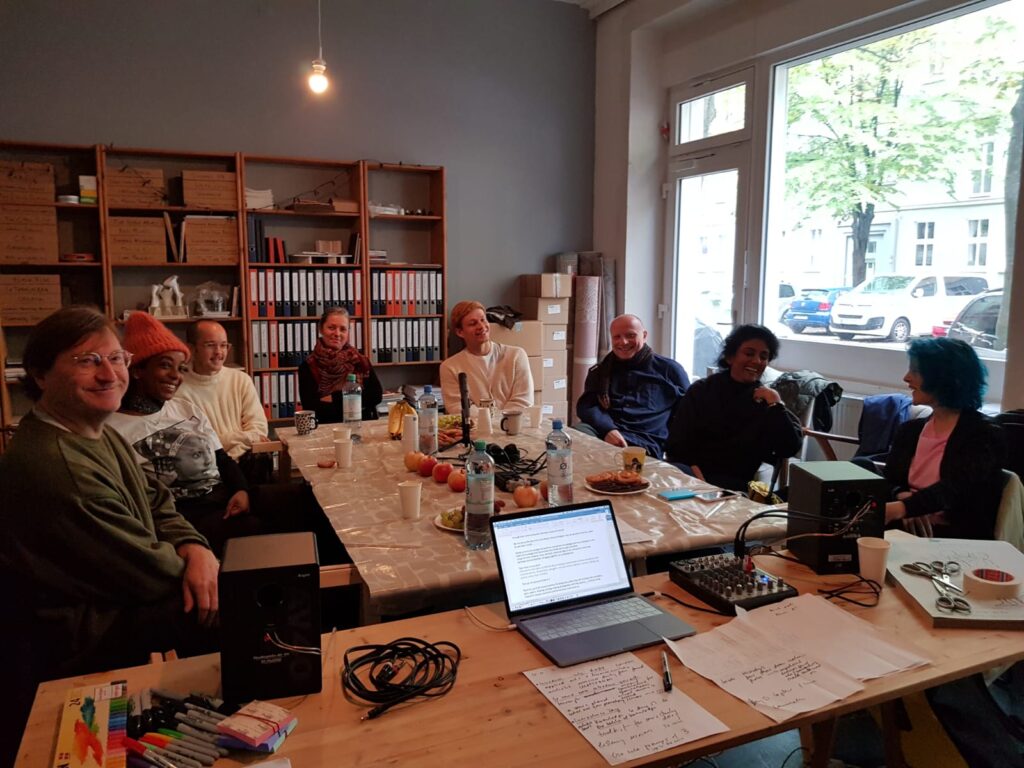 To celebrate the end of a fantastic 3.5 years of researching together as Listening across Disciplines II, we staged a new beginning. On Saturday October 1st we brought together a group of researchers, artists, students, scientists and people who are generally and professionally invested in contemporary global challenges and/or the sonic. They were invited to workshop a sense of what we are facing, and to design, generate, discuss and propose, potential solutions (or at least pathways to solutions) and the conditions needed to make those solutions possible.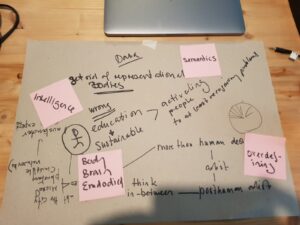 In this venture we were motivated by the invisible and relational logic of sound: how it can make us see and sense the world as an entangled place, and thus how it can help us think and work with the "wicked", entangled problems of climate change, related public health issues, scarcity of resources, migration, social justice, etc. from sound's own entangledness.
The first instalment of designing a sonic planet took place at Errant Bodies in Berlin. It was produced in collaboration with Elsa M'bala a sound artist based between Kribi, Cameroon and Berlin, Germany. More will be organised in different cities to work with a local but expanded ear in a globally connected world.
The invited participants were: Nandita Kumar, Holger Schulze, Gilles Aubrey, Kate Donovan, Anton Katz, Mahlet Wolde, Moritz Simon, Merche Biasco.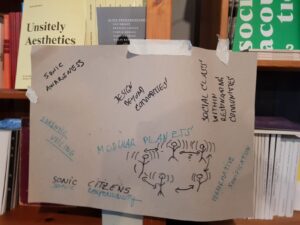 In a first discussion the word 'design' itself came under scrutiny for its anthropocentric and purpose driven sense and history. Thus, it became clear that words too must be re-practised and unperformed for an alternative imaginary that can think beyond the possible. They might have to be disrupted and troubled to generate that which we cannot yet think through existing vocabularies and grammar: a sonic view of the world from its invisible and indivisible relationality.
We listened, walked, thought, and talked together; drew shapes and words and ideas; ate and drank together as we hope to in this manner and with a collective sense, create outreach and a discussion that can connect to other work going on in this area which can bring a sonic/relational competence to the current crises of climate, health, the social and so on.