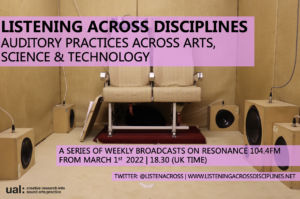 LxDII are very proud to announce the release of our second series of radio broadcasts on Resonance 104.4 FM. This series presents listening as a professional practice, diagnostic strategy and investigative method in the fields of audiology, engineering, museums, pedagogy, archives, sonification and sound arts. The programmes will air at 6.30pm (UK time) on Tuesdays from March 1st till April 12th.
The first episode in the new series (Episode 7), Thresholds of Audibility (March 1st), is based on fieldwork in audiology at the Institute of Sound and Vibration Research, University of Southampton. Associate Professor Peter Glynne-Jones, from the department of Engineering, discusses the use of ultrasound in cellular research and its implications for disease detection. We also speak to Dr. Hannah Semeraro and researchers Holly Watkins and Hannah Burke about their work in the context of hearing loss as well as auditory training and assessment in the workplace.
Episode 8,  Museums, Listening and Sound (March 8th) is based on three online conversations with experts working in, and with, the National Science and Media Museum, Bradford, UK. We speak to Annie Jameson, Associate Curator of Science and Technology, about the complex issues involved in curating non-sounding objects within a museum. We also hear from Toni Booth, Associate Curator of Film, who discusses listening from a conservation point of view as well as how to engage visitors with sound. Finally, we hear from Dr. James Mansell (University of Nottingham) and Dr. Alex De Little (University of Nottingham), who work on the project Sonic Futures. They discuss listening as a form of participation within the museum context and elaborate on how creating experiences, through workshop scenarios, can unsettle the traditional role of the expert.
Episode 9 is the start of a 3-part micro edition on Sonic Pedagogy. Part one (March 15th) is made from audio recordings of workshops and discussions, designed and hosted by Listening Across Disciplines, which took place on Zoom during the Covid-19 pandemic in 2021. You can read more about the Sonic Pedagogy working group on this previous blog post.
The group consists of a range of international scholars and practitioners. Core members include the LxDII team (Salomé Voegelin, Mark Peter Wright and Phoebe Stubbs), along with Nicole Furlonge, Kerstin Meissner and Kevin Logan. Invited guests for the three sessions included Werner Friedrichs, Abigail Hirsch, Anton Kats, Michael Gallagher, Walter Gershon, Shanti Suki Osman, Tara Page, Holger Schulze and Eder Williams.
During this first sonic pedagogy episode you will hear a series of discursive reflections that arrive out of small teams working in separate breakout rooms. Each group was instructed to scope overlaps and themes specific to their interests and experience, in relation to sound and pedagogy.
Episode 10, Sonic Pedagogy: Part Two (March 22nd) will feature a series of discursive reflections that arrive out of teams working in separate breakout rooms. Each group shares views on how sonic pedagogy might meet the various problems and desires at work in educational contexts. Groups also connect conversations to methods and workshops as possible test sites for what sonic pedagogy is or could be.
We begin episode 11 (March 29th) with a relay of contributor voices that weave articulations toward what sonic pedagogy is or could be. Afterward, you will hear a series of reflections that arrive out of teams working in separate breakout rooms. Each group shares various scores, ideas and experiments for workshops, and explore the possible sites of sonic research.
Episode 12, Listening Protocols (April 5th) focuses on methods and approaches to listening via the format of a listening protocol. In the first half, we hear from Syma Tariq, a PhD researcher at CRiSAP, UAL,  whose work explores the 1947 partition of India and Pakistan, and focuses on forms of archive, testimony and eventness through an examination of listening practices. In the second half of the programme we hear from Peter Cusack whose work explores the intersection of listening, field recording and the environment, often focusing on the soundscapes of environmental damage. Both Syma and Peter share their views on protocols and methods in their respective research; and read their own listening protocols, which they made as part of a Listening Across Disciplines workshop.
The final episode in the series (April 12th) explores data sonification, how sound is used to convey information that might traditionally be visualized through a graph or chart.  In the first half of the programme we speak to Sandra Pauletto, Associate Professor in Media Technology in the Interaction Design Department at KTH Royal Institute of Technology, Stockholm, Sweden. In the second half of the programme, we speak to Alexandra Supper, Assistant Professor in the Department of Society Studies at the Faculty of Arts and Social Sciences, Maastricht University. Both Sandra and Alexandra reflect on their practice and research within the field of sonification and consider the potentials and limits of sounding data.
Due to the Covid-19 pandemic, many of the episodes are edited from online interviews, workshops and interactions, where we were unable to meet in person. We hope they reflect the variety of work undertaken in the project, the multiple strands of the project's reach, and are extremely grateful for the generous input from all the project's partners during a complex time for collaborative working.
You can listen to the new episodes via Resonance FM's online player. You can listen to episodes 1-6 on our website podcast page.